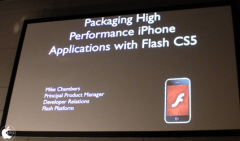 Adobeは、Adobe Flash Professional CS5に搭載した「Packager for iPhone」の大幅なアップデートを行う準備を進めているようです。

新しいPackager for iPhoneは、iPhoneだけに限らず、Androidも視野に開発されていて、iPadのような大型液晶画面デバイスの開発も行う事が出来るようで、ピンチ操作などもシミュレーションすることが出来るようです。

また、電子書籍の急成長に合わせ、出版業界から高い支持を集めている「Adobe Digital Publishing Suite」の作業製を向上させる目的で、Adobe Creative Suite 5 Design Premiumとは別に、デジタルパブリッシングコレクションが追加されるかもしれず、Adobe InDesign CS5から電子書籍コンテンツが直接書き出し出来るのではないかと予想しています。


---
Adobe prepares to completely upgrade "Packager for iPhone" which is implemented on Adobe Flash Professional CS5.

Next "Packager for iPhone" will support to publish not only for iPhone but also for Android and large LCD devices contains iPad, and will emulate further more feature for these devices like Pinch gesture.

King of DTP company seems to re-innovate publishing software for rapid growing digital publishing market. "Adobe Digital Publishing Suite" will be upgraded. InDesign CS5.5 which will be contained by new suite "Adobe Creative Suites 5.5 Digital Publishing" exports digital publishing content directly.

However this suite seems to support EPUB 3.0 specification, editing EPUB will be under consideration to be deployed by Dreamweaver CS5.5. It is not clear if market prefers to use this complicated workflow or hates.

---